We believe a chiropractor in the Innisfil area should focus on the cause of the problem, not just provide pain management.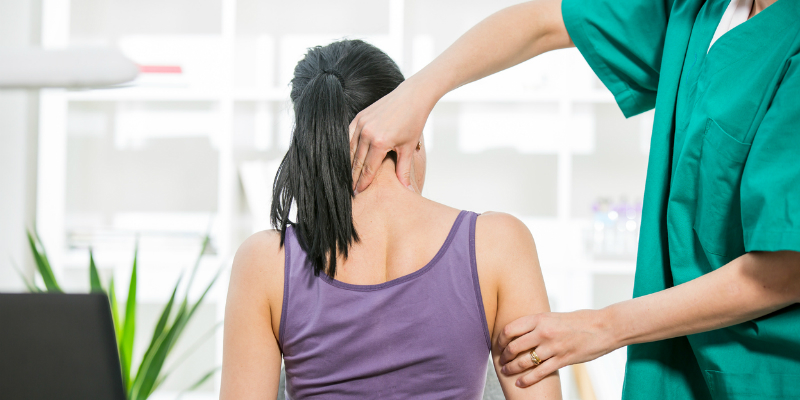 Many people in the Innisfil, Ontario area have learned that regular visits to a chiropractor can be part of a plan to attain and maintain good health. Chiropractic is not just for treating sports injuries and back pain. It is helpful for a wide variety of ailments and for overall health. Here at Mapleview Chiropractic Centre, we offer several different treatment options, so you and your family can obtain effective pain management and other benefits.
Our treatment options include traditional manual adjusting, activator instrument adjusting, myofascial release therapy, interferential current therapy, SpiderTech kinesiology taping, and therapeutic ultrasound therapy. We also offer custom orthotic shoe insert fitting, sports injury rehabilitation, and nutritional advice and counseling.
Don't the Office Slow You Down
There are many types of pain that chiropractic care can help with. By getting to the cause of neck, shoulder, back, hip, ankle, arm, and jaw pain, not only is relief possible, but so is healing. We can even help with whiplash, sciatica, scoliosis, pinched nerves, carpal tunnel, TMJ syndrome, and more.
Your first visit to see us will involve a complete evaluation and consultation. We will develop a treatment plan that fits the objectives, whether that is dealing with chronic pain or something else. Our prices for chiropractic treatments are straightforward. We offer direct billing, as well as provide services for motor vehicle accidents.
If you want to get started with an effective chiropractic plan that focuses on treating the cause of the problem, call on us to provide high-quality alternative health care. We believe you'll be more than pleased as you take control of your health.
---
At Mapleview Chiropractic Centre, our chiropractor proudly serves residents of Innisfil, Barrie, Angus, Midhurst, Oro-Medonte, Thornton, Orillia, Bradford, Cookstown, and Alliston, Ontario.