When you visit our chiropractic clinic, our friendly and professional staff will get you on track to feeling and functioning better in Barrie, Ontario.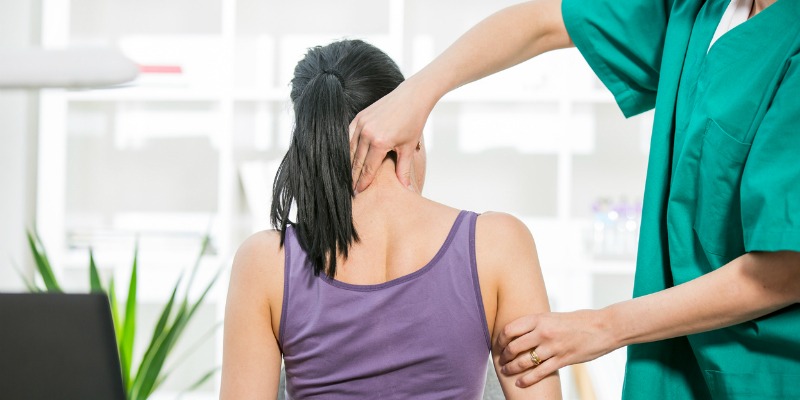 Are you looking for a chiropractor who provides more than just a basic adjustment? Have you recently been in an accident and have neck pain or you think custom orthotics would help you achieve relief from back pain? At Mapleview Chiropractic Centre, we understand that you may be experiencing discomfort and pain due to a number of reasons, but our goal is to assist you in achieving relief and focusing on treating the cause of the problem. When you visit our chiropractic clinic, our friendly and professional staff will get you on track to feeling and functioning better.
Our goal is to get your spine and nervous system functioning at the highest level.
Chiropractic adjustments can help with a lot more than just back pain!
So what can you expect from our clinic when you are looking for a chiropractor?
Pain management
Orthotics
Massage therapy
And more
At Mapleview Chiropractic Centre, we offer services for pregnant women who need relief and can assist our patients who are dealing with sports injuries in Barrie, Ontario. We also offer registered massage therapy services to provide comprehensive treatment options for those who experience chronic conditions or get the best results out of both chiropractic and massage therapies combined.
The team knows what they are doing.
"My family and I have been coming here for a few years now, and it has been great. Staff is friendly, the team knows what they are doing, and Dr. Brett has no hesitation to help adjust/treat any issues we have had."
★★★★★Timothy Ruttan
Is Seeing a Chiropractor Right for You?
At Mapleview Chiropractic Centre, we understand that even though chiropractic care has been around for centuries, there are still people who wonder if chiropractic care would be right for them. Many still see chiropractic care as an alternative treatment, but that has been changing in the past decade as more doctors are recommending non-invasive treatments a chance before resorting to surgery. Here are some questions to ask yourself if you are wondering if chiropractic care is right for you.
Is your current pain management treatment working?
We all know the dangers involved with some pain medications and that sometimes what worked for a while begins to feel less effective. If you are starting to think that you need to take more of your medication, it is time to stop and consider chiropractic care before going that route. The higher the dose of pain medication, the more potential for side effects and the risk of addiction.
Do you feel like you are not in balance?
A misalignment is usually accompanied by balance concerns. It may be mild in nature and only be apparent by noticing the soles of your shoes wear unevenly. Or, it could be enough that you feel like you are pulled to one side or the other when walking or running, just like a vehicle will do if the wheel alignment is off. You don't have to be experiencing pain to have a misalignment, but there is a good chance it will progress to a point where eventually you will feel pain as nerves become compressed or pinched.
Are you in favour of natural options whenever possible?
The beauty of chiropractic care is that it supports your body's natural ability to heal itself. If you would like to approach a misalignment; pain in your neck, back, or elsewhere; or issues with balance or gait in a natural manner, you can't choose a more non-invasive option than seeing a chiropractor.
It can be difficult to find the right chiropractor who understands your needs and can get to the source of the problem. Luckily, our team at Mapleview Chiropractic Centre is dedicated to helping you function free of pain and discomfort. Our clinic is known for its friendly atmosphere, and we strive to provide the highest-quality alternative care for you and your family. Contact us today to schedule an appointment and to learn more about our services. We look forward to hearing from you.
---
At Mapleview Chiropractic Centre, our chiropractor proudly serves residents of Barrie, Innisfil, Angus, Midhurst, Oro-Medonte, Thornton, Orillia, Bradford, ​Cookstown, and Alliston, Ontario.