Our number one goal with a chiropractic adjustment is to make sure you feel confident you can continue your normal activities like you always would in Innisfil.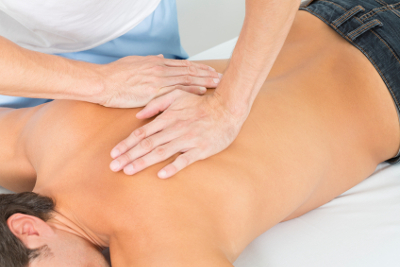 At Mapleview Chiropractic Centre, one of the most common things we hear from first-time patients is that they aren't sure what to expect from a chiropractic adjustment. The real answer is that everyone is different – and truthfully, that's a good thing! Each one of us has different aches, pains, habits, and lifestyle choices that affect the way our body feels. So, when you come to us at Mapleview Chiropractic Centre, you will find that we treat every patient as unique and provide a treatment plan tailored to meet your needs.
When you make an appointment for a chiropractic adjustment, the first thing we are going to ask you is where you are experiencing pain or discomfort. This tells us where to start looking for solutions. We believe in treating the cause of your pain—not simply covering up the symptoms—and we'll listen to your needs and work to make sure you are as comfortable as possible during your visit. Many of our first-time patients walk out feeling much different – and much BETTER – after having a chiropractic adjustment! And, because your treatment plan is unique to you, we may determine that just a few visits or routine care will provide the best solution for you. Our number one goal is to make sure you feel confident you can continue your normal activities like you always would.
Chiropractic Care Can Lessen Pain and Other Symptoms
A chiropractic adjustment can make a huge difference for many symptoms. Set up your adjustment appointment today!
If You Are Experiencing These Issues, Chiropractic Adjustment Can Help!
Whether you have been in a car accident, have a sports injury, are looking for a pregnancy chiropractor, or simply need relief because you sit at a desk for work in Innisfil, Ontario, we have the solutions you need at Mapleview Chiropractic Centre. We also offer direct billing. Contact us today to schedule your appointment.
---
At Mapleview Chiropractic Centre, we offer chiropractic adjustments to residents of Barrie, Innisfil, Angus, Cookstown, Midhurst, Oro-Medonte, Thornton, Orillia, Bradford, and Alliston, Ontario.
No hesitation to treat any issues we had.
"My family and I have been coming here for a few years now, and it's been great. Staff are friendly, the team knows what they are doing, and Dr. Brett has no hesitation to help adjust/treat any issues we have had."
★★★★★Timothy R.
Are you in pain but keep procrastinating scheduling an appointment? Don't put it off any longer - book your appointment now.