We can help alleviate your discomfort when experiencing carpal tunnel symptoms.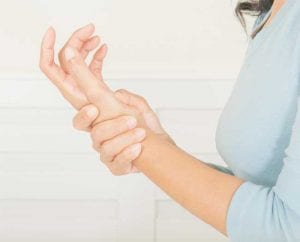 If you routinely experience tingling, numbness or pain in your hands and arms, especially if your work requires repetitive movements, you may be dealing with the onset of carpal tunnel syndrome. Unfortunately, carpal tunnel can be difficult to treat, and a medical doctor may have limited options to give you outside of recommending surgery.
At Mapleview Chiropractic Centre, we understand that you may want to be able to continue your routine in Angus, Ontario as much as possible without experiencing these negative side effects or having to think about invasive surgery to correct the issue. Fortunately, there are some things we can do help alleviate your discomfort and pain when you are experiencing carpal tunnel symptoms.
One of the first things we do is assess your entire skeletal structure for things that could be causing carpal tunnel symptoms. For example, sometimes a misaligned neck can cause feelings of tingling and pain in your arm and/or hand, and when the misalignment is corrected, it provides the necessary relief. The next step is to recommend non-invasive solutions for you to add to your routine, such as wearing a stabilizing brace to keep your wrists and hands in a better position while you work. We may also recommend icing the area to reduce inflammation and discomfort. Finally, we can provide gentle adjustments to your hands, wrists, and shoulders to help alleviate carpal tunnel symptoms by realigning your joints.
Carpal tunnel can be very difficult to manage without the right treatment, but that doesn't mean you have to settle for surgery first. Give us a call at Mapleview Chiropractic Centre today to learn more about our treatment options and to schedule a consultation.
---
At Mapleview Chiropractic Centre, we provide relief from carpal tunnel to residents of Barrie, Innisfil, Angus, Midhurst, Oro-Medonte, Thornton, Orillia, Bradford, Cookstown, and Alliston, Ontario.