Our orthotics can help you feel comfortable when on your feet for long hours.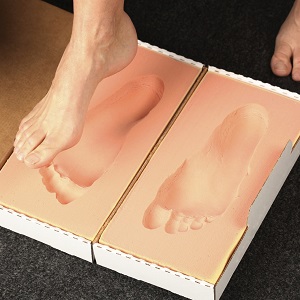 Did you know that when you walk and run, you are performing more of a controlled fall? It is no wonder then that spending all day on your feet or certain movements aren't just painful to your feet, but up to the entire chain of your body. Sometimes after a long day, it can feel like the pain has just jumped from joint to joint all the way up your body until you are left with everything being sore. If you are tired of being sore from top to bottom and need more support, we here at Mapleview Chiropractic Centre want to make sure that your feet are getting the support they need for the rest of your body with orthotics.
Orthotics are able to help your body adapt to the physical demands of today's lifestyle. Whether  you have feet that are shaped in such a way that finding comfortable, supportive shoes is incredibly tricky or you have feet with different issues (not uncommon, by the way), we here at Mapleview Chiropractic Centre can help you get orthotics that will cause your feet, knees, hips and back to align properly and stop causing you troublesome pains.
If you are unable to find orthotics that work for you as of yet, we can also help you in the process of procuring custom orthotics. With custom orthotics, we actually take an impression of your feet and create orthotics that are just for you! This specific care and practice are just one example of the dedication we have to your pain management and comfort here at Mapleview Chiropractic Centre. If you are experiencing foot, knee, back or hip pain in the Angus, Ontario area, come see us today about orthotics.
---
At Mapleview Chiropractic Centre, we offer orthotics to residents of Barrie, Innisfil, Angus, Midhurst, Oro-Medonte, Thornton, Orillia, Bradford, Cookstown, and Alliston, Ontario.
Similar Services We Offer: