Keep your spine in line with orthotics.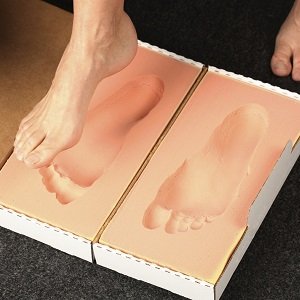 While most of us expect to age and have a few aches and pains in our old age, something we are not prepared for or comfortable with is when we have aches and pains in our younger years! When it comes to pain in your lower extremities or back, the answer to that pain might not be in your medicine cabinet. Instead, you should consider that the root cause of your discomfort might be in your kinetic chain. Here at Mapleview Chiropractic Centre, we believe that the source of your pain should be addressed first, rather than last. We want to help you feel better in a holistic way, and just one of the ways we do that is with orthotics.
Orthotics are a support, usually in the form of a shoe insert, that can help align your posture and kinetic chain. When your posture is aligned, and your kinetic chain is strong, you will experience less pain (if any) and be better able to handle the tasks that your body needs to complete every day. For those of you who work on your feet, orthotics can be another layer of protection in ensuring that your feet, knees, hips, and spine remain in line and intact.
Because every person is different, there is no one orthotic that will work for everyone. Here at Mapleview Chiropractic Centre in Innisfil, Ontario, we can determine where your pain is, where the issue lies, and how we can address and fix the problem. We will help determine which orthotics and other chiropractic care are right for your unique situation. If you have lower joint or back pain, let us help alleviate your suffering with orthotics.
---
At Mapleview Chiropractic Centre, we offer orthotics to residents of Barrie, Innisfil, Angus, Midhurst, Oro-Medonte, Thornton, Orillia, Bradford, Cookstown, and Alliston, Ontario.
Similar Services We Offer: